Whether you fill your pie with crisp apples, sour cherries, pumpkin custard, or chocolate cream, a great pie plate can help it look good and taste great, preventing slumping crusts and soggy bottoms. We've tested 19 pie plates since 2013, and we recommend the affordable OXO Good Grips Glass 9″ Pie Plate With Lid. It's just the right size, it bakes evenly, and it allows you to check if the bottom of your pie is browned.
Our pick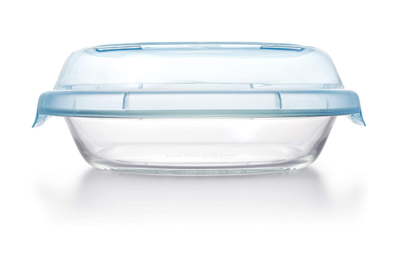 At 2 inches deep, this dish holds more than most glass plates we tested. It's better able to handle dramatic temperature changes such as going from freezer to oven, it bakes evenly, and it lets you easily see when the bottom of your pie is browned.
The OXO Good Grips Glass 9″ Pie Plate With Lid makes baking pies a piece of cake. It conducts heat evenly and gently, and in our tests it produced some of the most evenly golden-brown crusts. There's no true standard size for pie dishes, but the OXO plate's interior, at 2 inches deep, holds more than most glass plates, accommodating a wider range of recipes. Its rim is also wider than those of most other plates we tested, which helps crusts stay up and leaves plenty of room to shape a crimped edge. And unlike the tempered-glass Pyrex plate we tested, this OXO dish is made of thick borosilicate glass, which allows it to go from freezer to oven with a much lower risk of breaking from the shock of such rapid temperature changes. It even comes with a plastic lid, making it easier to transport to potlucks or parties. Finally, its simple design won't distract from your gorgeous pies or clash with other servingware.
Also great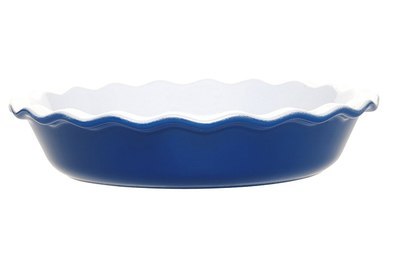 Deep and sturdy, this pie plate bakes more evenly than other ceramic dishes we tested, holds up under a broiler (which glass can't do), and comes in several elegant colors.
If you care a lot about presentation and you want a pretty plate that comes in multiple color options, the Emile Henry 9-Inch Pie Dish is one of our longtime favorites. It holds about as much as the OXO plate, and in our tests it baked more evenly than other ceramic plates we tried, transferring heat gently for smooth custard fillings and wonderfully jammy, evenly browned fruit pies. The slightly wavy rim helps guide crust crimping but doesn't get in the way of other designs as some more dramatically rippled rims do. The Emile Henry can go safely from freezer to oven, and unlike a glass plate, it can also withstand baking under the broiler, which you may want to do to quickly toast a meringue pie. If you don't mind the steeper price and can judge your pie's doneness without seeing the bottom browning, the Emile Henry is a great choice.
Runner-up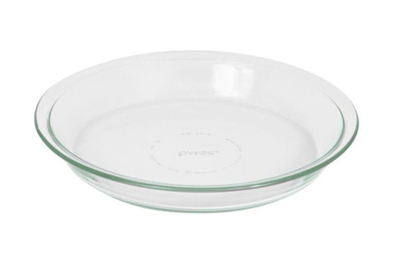 If you like to make cream pies or prefer extra crust, the 1½-inch-deep Pyrex is the ideal size and bakes a beautiful crust.
If you're looking for a shallower plate, which is good for custard pies or for anyone who likes a high ratio of crust to filling, we recommend the Pyrex 9″ Glass Pie Plate. At 1½ inches deep, it holds about 2¾ cups less than OXO's glass dish but is just big enough for a classic pumpkin pie, and it can make a thicker fruit pie if you pile the fruit high. It bakes evenly, and like the OXO it allows you to see when the bottom of your pie is browned. Our only caveat: Pyrex pieces are made from tempered glass rather than borosilicate glass, so this plate is less resistant to thermal shock than the OXO—meaning it's more likely to shatter from sudden changes in temperature. That said, tempered glass is less likely to break if you drop it, and it can easily last for years if you're careful not to move the dish directly from the freezer into a hot oven.
Source link